Step-by-step debugging is advanced technique of programming for finding and resolving proble
Setup
[
]
Find root game directory at your system. Usualy it is something like this:
C:\Steam\steamapps\common\Life is Feudal Forest Village\
Create debug.cmd in this directory with following content:
"ForestVillage.exe" -debug -console

Find script.pak in the same directory. Extract it by QuickBMS.
Download and install [ZeroBrane IDE]. Run it.
Select Project -> ProjectDirectory -> Choose and select root game directory.
Select Project -> LuaInterpretor -> Moai
Select Edit -> Preference -> Settings: System. Add this lines at the end of file and save it:
debugger.runonstart = true
debugger.redirect = 'c'
path.moai = "debug.cmd"

Usage
[
]
If

setup done correctly you can press "start debugging" button (green triangle) and game will start.
When the game window pops up start a new game.
Browse project window (Project View -> Project/FileTree) and open some scripts. Click next to any line number to toggle breakpoint at this line (red circle). When script execution reaches this line the game will stop.
Use stack window (Project View -> Stack) to examine stack and local variables at this point.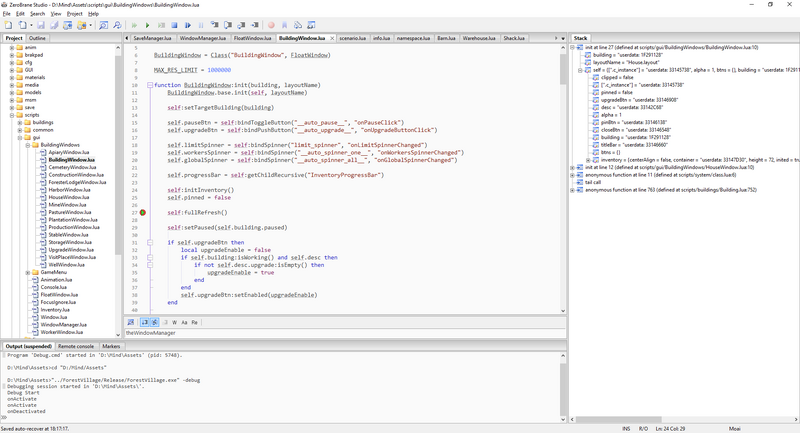 Use Project -> Step Into, Step Over, Step Out buttons to step-by-step execution.
Use this command in scripts to print any information into View -> Output window:
print

(

"text")



To print information about the running game you can just put available global variables in print statements. If you put the following code in one of your Mod-Lua files it will print all elements of the fv.core Table to the Zerobrane console:
for 

key,val

 in pairs (

 fv.core 

) do 
     print( 

key,val

 ) 
 

end